Be sure to follow Sophie's journey from the beginning.
"I still love you, Dad!"; never have I read sweeter words.  I almost broke down and cried there and then.  I knew, however, that I had to compose myself for what was about to follow — the second phone call.
It was to be more of the same, only more shaky and holding back more tears.  I was trying my best to speak without falling apart.  Oh my, how hard that was.  In broken and disjointed sentences, I shared how I had gotten to this point in my life and who and what I was.  My daughter was so very sweet; she was trying to be supportive and to say all the right things.  That made me even more emotional.  I was telling the total truth about myself, and my daughter was the first person to know me as nobody has.  I made a few jokes, probably poor ones, but tried to take the edge off of the situation.  By the end of the evening, I felt as if a great pressure had been removed from my life.  My daughter was the one person whom I had worried about telling.  In retrospect, I may have blown the situation out of proportion, just a little. in my mind.  Our discussion ended that night with promise.  I left it that she could ask me anything she wished and I would only answer with truth and honesty.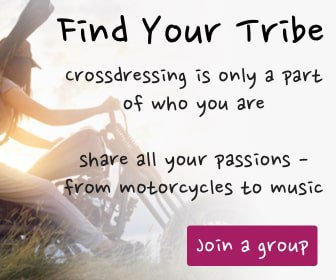 What I had not expected or realised was the effect that my disclosure would have on my daughter in the following days.  She asked a few questions about our life when we lived as a family, but nothing too deep.  It was not until a few days later that it became clear that she was having difficulty.  She was struggling with coming to terms with me as anything other than her father.  This was going to be harder than I imagined.
By midweek of my visit, I was struggling with not being Sophie for the longest time since the beginning of the year.   It was taking its toll on me.  That day, I had been doing a lot of cooking and preparing meals for my daughter to freeze.  As the evening crept in, I felt that I needed a drink and suggested that we open a bottle of wine.  I cannot recall the meal we ate that night, but the conversation remains as vivid today as that day.  We began discussing my life, but my daughter also shared many things about herself that we had never discussed.  It was  a two way exchange, punctuated with us both sobbing and hugging many times.  Two bottles of wine, floods of tears, and a headache or two later, we both tried to sleep.  That was the first of a few nights when I did not sleep well; I survived the rest of the week on about four hours of sleep a night.
The following day, I made an error with something I said.  As a result, My daughter got upset and went for a walk.  We met a couple of hours later in a local pub and talked more over a drink.  I apologised and explained how things went sideways.   We were able to get things back on track.  Unfortunately, the following morning,  I felt differently.  I felt like I had made things worse by coming out, and wished I was back home.  I wanted to get away from it all.  I had lost my appetite, had a thumping headache, and felt bad about myself.  What had gone wrong?  It was my turn to get some fresh air.
I lost track of the time while walking slowing about the town.  Finding myself in a public garden by a stream, I sat down on a bench.  I cried quietly to myself as the odd stranger walked past, oblivious to my heartache and torment.  (Just writing this is bringing me back to tears, requiring that I stop for a moment to compose myself.)  Although it was sunny, it was also cold, and I was beginning to shiver.  I decided to continue walking, and soon found myself heading back to my daughter's flat.  I walked slowly as if I had no purpose or direction.
By the time I got to the flat, I had tried to move myself into a better place, but not with great success.  Entering the flat, I spoke with my daughter; things, however, were a little tense still.  As the evening went on, we spoke more and more.  By the end of the night, I was back to a better state of mind, and my daughter and I had recovered from the recent tribulations.
Sophie concludes her journey in reflection on what she learned about herself and her relationships in the closing segment.
More Articles by The Author
The following two tabs change content below.
I was born in London but now live in Central France where I love my life. I am creative, artistic, musical and intelligent. Cooking, good food, wine and good company are among my passions and interests too. I have cooked in restaurants here in France and still cooking a little as it's hard to give up like drinking. I have a good sense of humour, perhaps sarcasm is my favourite along with clever wit.
Latest posts by Sophie Amb-France (see all)
Tags:
bad places
coming out
daughter
Love
parents and children
Relationships
supportive