This topic contains 11 replies, has 9 voices, and was last updated by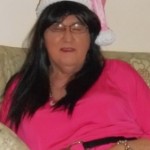 stacey s 2 months, 2 weeks ago.
Creator

Topic

Vanessa Marie

Participant

Offline

Registered On:

May 11, 2018

Here's my situation and I want to know if any of you ladies can relate.

My best friend knows about Vanessa. He's never met me as her in person but he's seen pictures. He always tells me how good I look and he's proud of me for expressing myself to him. I'm lucky that he's dabbled in drag and CD in the past, he is a few years older than me, so I'm very comfortable with him.

But lately I've been fantasizing and even dreaming of him being sexual with me as a woman. I like the idea of it because I'm so comfortable with him, but I've never told him about it. I don't want him to actually have sex with me, but he's my only chance of a man treating me like a woman.

I would love to be treated like a woman with an actual man, and he seems like the best shot I have at it. I just don't know how to approach him.

I really want to know what you ladies think. Have any of you been in this position?

2 users thanked author for this post.

Creator

Topic
Author

Replies

Author

Replies
Viewing 11 replies - 1 through 11 (of 11 total)
You must be logged in to reply to this topic.