Let's be clear from the start.  I am just a crossdresser. I have no wish to be a girl (although I would hope that in another life I could be born female). I am straight, not that that is a boast, just a statement of fact. In short, I am me, a guy who likes to wear clothing that for some reason has been defined as "female wear".  I think I am like the majority of men throughout the world, only sometimes the enthusiasm of the girls upon this site seems to indicate I am an old-fashioned relic.
I have dressed for essentially as long as I can remember.  Initially, it was a sensory experience.  I enjoyed the feel of soft and slippery fabrics.  At puberty, it became a much more sexual and fetishistic activity.  I have no need to go into details.  As I matured it became a desire that had to be satisfied from time to time but I never recall any overpowering desire to pretend to be a woman.  I was just a guy who liked wearing soft, pretty, sensual clothes that for some reason were forbidden to me by Society.  If I had married a woman without the violent opposition that I discovered in my wife I would almost certainly have been happy slipping on some lingerie and a pretty frock a few times a month and just watching telly or chatting.
Unfortunately, I discovered (despite having hinted of this issue) that my wife had strong religious views on this subject and like so many others, assumed it must mean that I was 'gay'.  As I guess many others of you have done, I had to make decisions.  In my case, it was that my love for a good woman was more important than release from the pressure of my need to dress.  I was in a fortunate position of traveling in connection with my job and "Deety" appeared in many hotel bedrooms throughout the UK. The travel was sufficient to at least take the edge off my needs.  A side effect of this 44-year long period before I lost my wife was that I was gradually able to understand more about myself and this strange compulsion that drove me.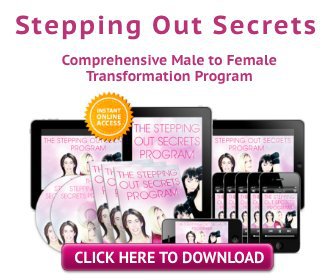 When my wife suddenly passed away, I was, at first, devastated but oddly I found her clothes a comfort to me.  Nothing unusual in that I understand, except that my wife was only 5 feet tall and weighed around 120 lbs. whereas I am six foot tall and at that time weighed in excess of 320 lbs.  Gradually, slowly, I started buying my own clothes and as Barbara faded from my life, Deety came to stay.  In my maturity, I am now happy with who I am.  I wear very little strictly-male clothing but often present as a guy.  However, I'm always fully and properly under-dressed.  I openly shop and often join in the giggles of the sales girls, preferring to laugh with them rather than let them laugh behind my back.
For those of you who are, like me, just a crossdresser, I hope this is an encouragement and a vindication.  For those looking for more, I make no apology.  We are all different and I love it that we are.  I can understand the frustration that you feel.  Those of you that are truly transgender may find my position laughable but I am aware of the pain and confusion you must feel as well.  It is not to do with dressing for you, it is much more than that and I extend my love and concern to you.
More Articles by The Author
The following two tabs change content below.
Deety
I am a widower now but have crossdressed basically all my life in secret. My wife was violently anti and I spent the 44 years we were together hiding Deety, only letting her out of the cupboard when on lone business trips. Now she is me 24/7 although I don't feel the need to dress at all times
Tags:
crossdresser
crossdresser relationships
crossdressing history