It is very difficult to get any privacy when the house is full of kids coming and going, and your wife has a part time job. I used to look for CD content on the internet, and being an IT consultant, found it easy to cover my tracks. Although I wasn't cross dressing, it wasn't often out of my mind.
Then in 2016, I found the wonderful CDH. I signed up in January, but for some reason didn't actually use the site until April that year. After reading some of the articles and features, I decided to re-open the subject with my wife. Using vodka to loosen my vocal cords, I brought the subject up, and in the next 3 weeks came out to my daughter, my mother and my sister.
In July, following a knee replacement operation for my wife, I have started talking to her about my habit again, and things look promising. My son is 22 with Asperger's Syndrome, and I had been very frightened to tell him, but around the end of July, my wife told me that she had spoken to him about it. He was unbelievable. "You're still my dad and I love you. You must do what you need to do."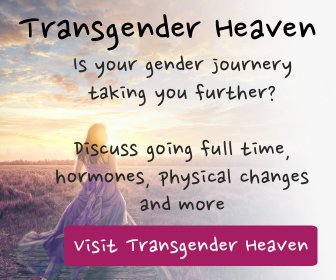 So, as of last weekend, everybody is covered. Unfortunately, the sweet shop isn't open yet…
I am still deeply ashamed of cross dressing, and have spoken to a lot of girls here, all of whom assure me that there should be no shame, and I should get some therapy to gain "acceptance" of who and what I am. But I still feel kind of like….
I am a man… Men don't do this… It is wrong…
I have tried to get some counselling from the NHS, and am still waiting for that to happen. I started walking, to lose some weight. 2 ½ miles Twice a day – 10,000 steps or so, and have lost around 35lbs. so far. Walking for an hour and twenty minutes gives you a lot of time to think, and for the last four months, I have run my situation through my mind time and time again. Apart from the shame & guilt which I suffer, I have identified another factor which I think maybe significant.
I have very low self-esteem / respect / confidence. I can pin this down to the age of 8 or 9 when an event – which I cannot remember, caused me to come to the conclusion that I must step back, and not be noticed.
I am a professional person, and have been working in IT for over 35 years. I think that if any of you dear readers were to meet me, you wouldn't notice this side of my personality. I have hidden it, and covered it over with bravado, if you like. Deep inside – I'm still 8 years old. I can see where this has hindered my career, why I feel uncomfortable in certain situations, and why I am unable to talk out. The sad thing I have noticed about this condition is that it never allows you to feel that you belong.
I find in the chat room, that there are some conversations that I cannot take part in. This is not a matter of rudeness, but rather one of shyness or not having anything to add to the conversation. At this point, I will usually leave the room. I don't think that this is uncommon. I also find that I have a lot of compassion, and really care about the girls that are here and are suffering, or fragile, and need some propping up – or encouragement. I like to think of CDH as somewhere we go to be nice to each other. I also sometimes feel like a fraud. A non-cross dressing cross dresser. What am I doing here?
In conclusion, I have a place here at CDH, I'm sure of it. I don't seem to match the "average profile" (if there is one), but I'm doing my best. I love talking to you lot, and would always try and help you out. I enjoy your company, even if I find some subjects uncomfortable. I do fit in, I'm just not quite sure where. I hope that if you feel similar, you can find reassurance from this.
I am sorry, it is an awfully long time since I did "English Composition" – Technical Manuals I have written, but nothing that would need to be remotely interesting.
I hope that somebody finds something here that is helpful, and that with the support and yes – the love, I get from you ladies, things will work out for me. I don't think I know where I fit in yet, but hey, I'm working on it.
More Articles by The Author
The following two tabs change content below.
Married 30 years – 2 children – 2 dogs CD for 45 years – though I have issues. Lives near London UK
Tags:
Crossdresser Acceptance
crossdressing support